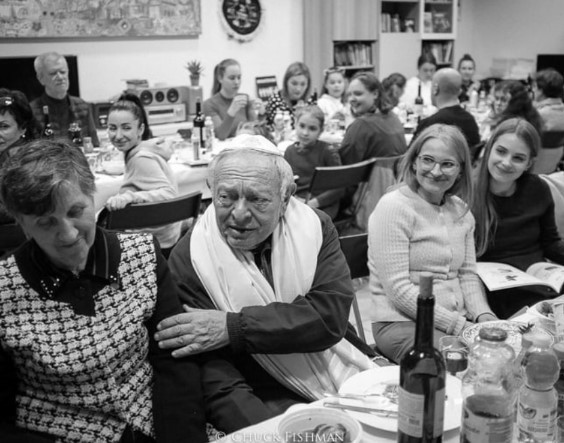 I have invited my brother-in-law, Jonathan Ornstein to help me with this blog post celebrating Jewish American Heritage Month. Since I grew up in Christian family in a town with very few Jewish residents, much of what I have learned about Jewish culture is from the Ornstein family.  
Jon is the executive director of the Jewish Community Centre (JCC) in Krakow, Poland.   I know that some people may have a difficult time separating Judaism as a religion from Jewish culture.  Frankly Jon, it took me a while to digest your position as leader in the rebirth of Jewish culture and heritage, and someone who considers himself an atheist.  Can you tell us more about your work and help us understand the difference between Jewish culture and religion? 
I'll try but defining Judaism is something that we Jews ourselves have a hard time with. The way I look at it is that Judaism is very old and therefore doesn't lend itself well to contemporary definitions. Today, we have nation states and religions but Judaism and the Jewish people are remnants of a different world, one that used to have peoples that lived in a place and had a common language, common beliefs. That is what the Jewish people was. Today we are spread out all over the world and don't necessarily believe in the same thing. It is hard to separate the culture from the religion but being Jewish is not based on what you believe so doesn't easily fit in the category of religion. My work involves rebuilding Jewish life in Krakow, a Jewish community decimated during the Holocaust and further diminished during 50 years of communism in Poland.
Jon, I also want you to speak about your work to support the refugees from Ukraine   I know that you have framed this point in history in this way, "Eighty years ago, during the Holocaust, the world stood largely silent as Jews were being killed, and now, 80 years later, we must not remain silent as others are being persecuted." Can you talk about your work and the importance of supporting refugees during this time?
We are mindful of our history, especially in Poland and the need to have learned the primary lesson of the Holocaust: Don't be indifferent when others are suffering. Our community, centered around our JCC has fully mobilized to help Ukrainian refugees in our city. At this point, we are housing over 400 every night, feeding 1,000 a day and providing social services to many, many more. Overall our small center has directly helped over 50,000 refugees, the overwhelming majority women and children.
Finally, back in 2019, my family, including my children aged 7 & 10, took part in the Ride for the Living.   We biked from the death camp of Auschwitz to the JCC in Krakow.  I understand that this year you will have some cyclists riding from the border of Ukraine, I am wondering if you can talk about the ride and what gives you hope in observing the oppression that continues to exist in the world today? 
The Ride symbolizes hope. We ride every year from the darkness of Auschwitz to the light and optimism of our reborn Jewish community in Krakow. This year we are focused on raising awareness and resources to help Ukraine so we will expand the ride to the Ukrainian border, having cyclists ride from there to the JCC arriving at the same time as the main group leaving Auschwitz. The direction is important, always moving toward a better place and a better world.
Thanks to Phil and Jon for sharing their family and culture with all of us! Learn more about Jewish American History Month here: Jewish American Heritage Month.