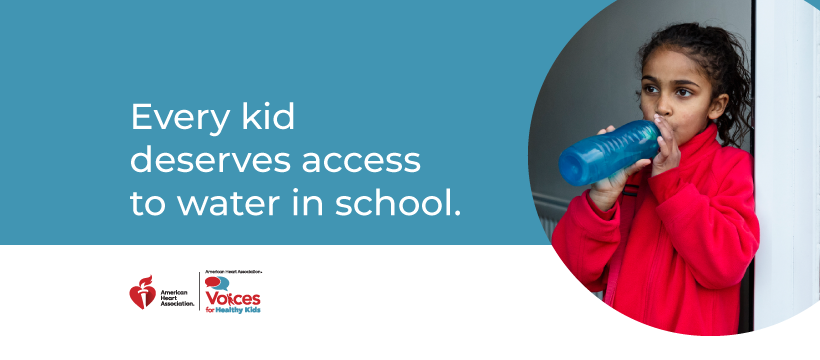 Just as a single drop of water can create ripples that spread far and wide, the work of the advocacy team at the American Heart Association-Arkansas is having far-reaching effects.
Gov. Asa Hutchinson of Arkansas just signed an important bill into law. Act 775 requires that all new schools have water bottle filling stations, and for the stations to be installed when existing schools make major renovations.
"This bill is about taking care of our students and giving them the best chance at success," said Sen. Jane English of North Little Rock. "The passage of this legislation shows our support for students by recognizing the importance of adequate water intake and the positive impact it has on children's cognitive performance, visual attention and fine motor skills."
The law is the result of ongoing advocacy efforts, led in part by the American Heart Association, to provide safe, clean drinking water for students while in school. The legislation was also supported by Healthy Active Arkansas, The Arkansas Coalition for Obesity Prevention and Arkansas Advocates for Children and Families.
"It all started with individual school districts in Arkansas, like the one in Little Rock, taking action to ensure all students have access to clean, appealing water while on campus," said Dave Oberembt, the state government relations director for American Heart Association-Arkansas. "We've taken those small victories and turned them in to a major water win for all students, teachers and staff in our great state."
Water bottle filling stations, especially since we are still in the midst of the COVID-19 pandemic, are preferred over water fountains because they are much more sanitary. You see, water fountains, which require users to put their mouths close to the spigot, are some the germiest surfaces in any school. Additionally, the filling stations allow students to enjoy water throughout the day as opposed to a quick drink in a long line of their peers.
"We know drinking enough water can improve a child's performance in school, making it easier for them to learn," said Dave Oberembt, government relations for the AHA in Arkansas. "Substituting water for sugary drinks can also help keep our kids at a healthy weight."
Voices for Healthy Kids was pleased to support this work through a grant and technical assistance.
---
Want to help schools establish and implement policies that ensure kids have access to water at no cost throughout the school day? Check out our Water Access in Schools toolkit! 
4/22/21