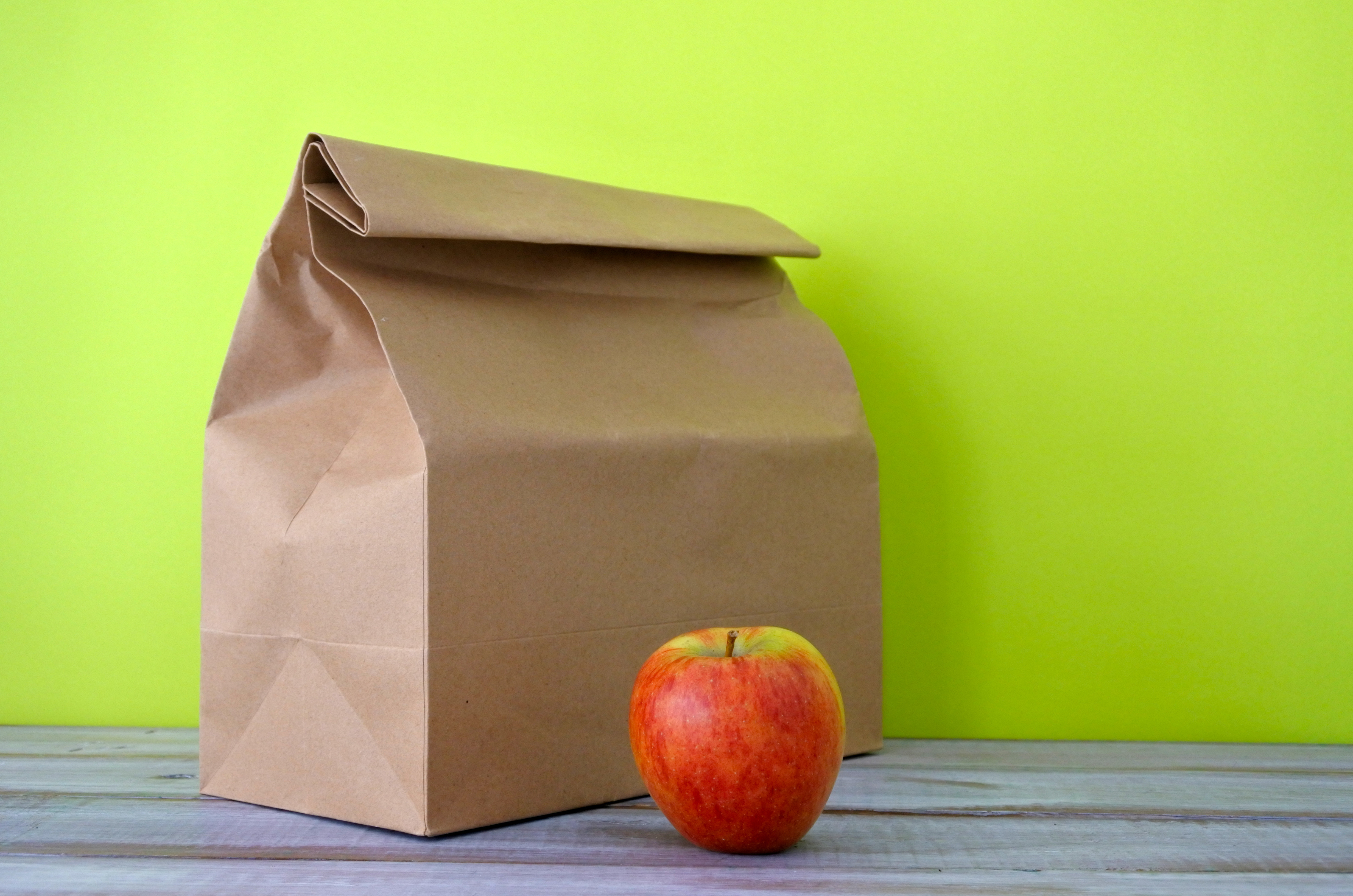 Millions of kids across the country rely on school meals as their primary source of nutrition every day when school is in session. But the COVID-19 pandemic and the closure of tens of thousands of schools have changed the dynamics of school meal programs in ways we never imagined.
School meal programs were never designed to serve in an emergency response mode. Yet, through their extensive efforts to ensure that no kid goes hungry, food service professionals and others are stepping forward to prioritize kids' health and nutrition above even their own personal safety. Their work during the pandemic shows how, amid fear and confusion, communities are coming together to take care of each other, especially those who need help the most.
Communities are thinking creatively about what will work best for their kids based on what they need, where they live, what kind of transportation their families have access to and the resources on hand.
For example, in Roscommon, Mich., a rural village with a population of about 1,100, eight school buses staffed by teachers, social workers and other school employees have been transformed into a mobile meal delivery fleet. School district staff work in the cafeteria on an assembly line, filling grocery bags with several days' worth of breakfast and lunch foods. Then the buses roll out to deliver the supplies to students at their homes.
Communities Large and Small Put Kids First
Big cities like New York, Los Angeles, San Francisco, Chicago and Atlanta make school meals available for pickup at designated locations. But grab-and-go sites aren't always feasible for families who don't live close to school and lack transportation. And many families prefer to stay safe at home as much as possible. In addition to having pickup sites, Atlanta Public Schools distributes school meals on middle school bus routes in several neighborhoods, including South Atlanta.
In California's Contra Costa County, White Pony Express, a nonprofit food rescue group, has committed to delivering 415,000 nutritious school meals to families served by the School Food Pantry Program at their homes. And in Mexico, Mo., the owner of a local bar and grill is packing and delivering sack lunches to the community.
Drive-through pickups have been a good option for many communities. In Washington State, Tacoma Public Schools has both a drive-through and a walk-up service at middle school buildings around the city. People are asked to enter through the school bus loading zone, which helps maintain social distancing. Harrisonburg, Va., also has a drive-through and a walk-up service. In addition, community partners have come together with generous food donations for the school system.
"This has been definitely a challenge. It's a new way to think about meeting the nutrition needs of kids in a time where, you know, we still need to try to stay apart a little bit, but that doesn't take away these nutrition needs," said Andrea Early, executive director of school nutrition for Harrisonburg City Schools. "The outpouring of support from our community has really been amazing and overwhelming."
Meeting an Urgent Need in a Time of Crisis
It's hard to overemphasize how important school meals are to so many families. In parts of Western Pennsylvania, for example, 100% of students qualify for free or reduce-price school meals based on family income. Many school districts are handing out to-go bags during the week.
One Western Pennsylvania school district, Steel Valley, where 100% of students are eligible for subsidized lunches, gave kids backpacks of free food on a Friday to see them through the weekend while continuing to distribute meals during the week.
In Beaver County's Rochester Area School District, where all 680 students qualify for free or reduced-price lunches, school officials took the opportunity to inject a note of levity. A school van delivered meals to the kids' homes, followed by a parade of teachers in cars honking and waving to everyone.
Share Your Stories and Say Thanks
From store clerks to delivery drivers to the volunteers donating their talents, in times of crisis, our communities' helpers always step up. Get to know some of these helpers who are committed to feeding Americans during the pandemic.
What are you seeing in your own community? Voices for Healthy Kids would love to hear about how your school district or community is coming together so that students and their families do not go hungry and also feel loved and cared for during this uncertain time.
Email us a short anecdote, and please let us know if we have permission to share your community's story. Be sure to include the name of your school district, city and state.
And join us in saying thanks by: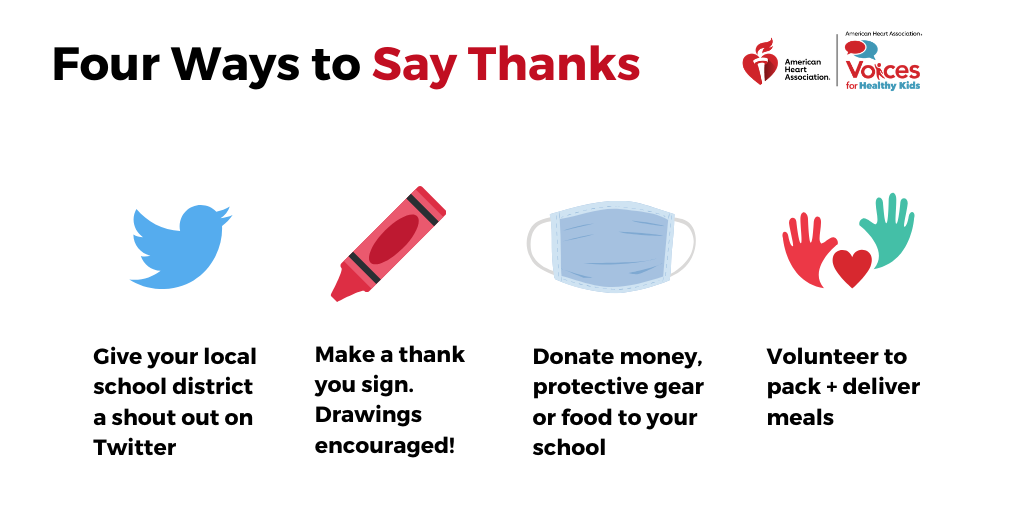 Giving your local school district a shout out on Twitter (use hashtag #ThankAHungerHero). Ex: Thank you @BostonSchools for providing free meals to kids + families during this difficult time #ThankAHungerHero 
Making a thank you sign and putting it on your window or yard (drawings encouraged!) 
Donating money, protective gear, or food to your school 
Volunteering to pack and deliver meals, if you're able and willing 
Tag us in your posts (@Voices4HK) so we can help spread the love!