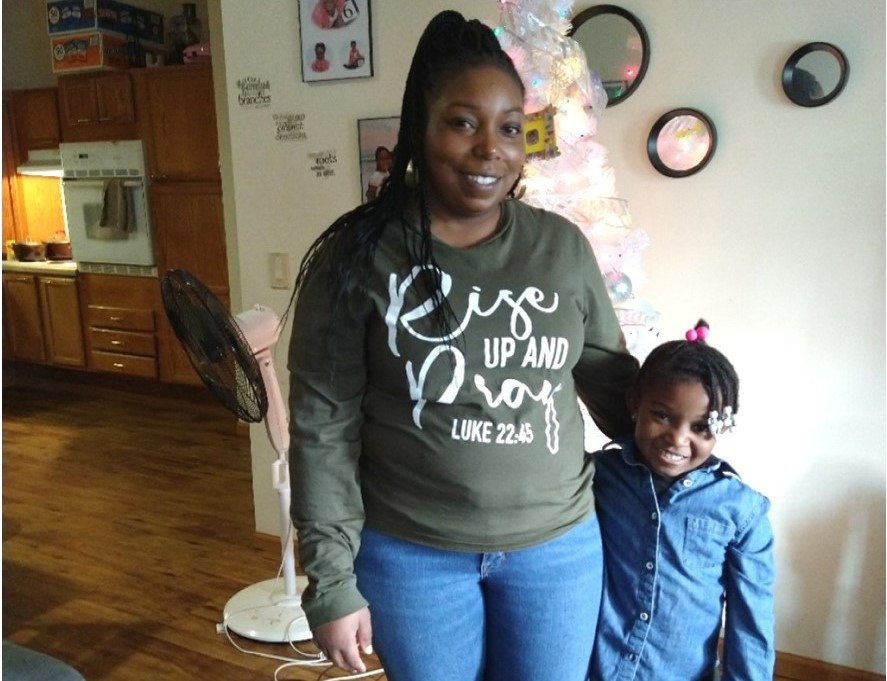 Guest Blog By Ashley, Wisconsin Resident
Kids Forward – the oldest advocacy organization for children and families in the nation – recently created a multimedia section of its website, which was made possible due to a grant Kids Forward received from Voices for Healthy Kids, an initiative of the American Heart Association. Kids Forward uses these stories to advance its public policy efforts to find effective, long-lasting solutions that break down barriers to success for children and families in Wisconsin, notably children and families of color and those furthest from opportunity. This is one of those stories.
I've been working two jobs since my daughter, Kennedi, was born in 2015. Child care has always been a must. I chose an in-home daycare for my daughter. Of course, this meant that I missed some of her important moments. At her child care, they saw her start to walk. She lost her first tooth there and did potty training. I'm so thankful to say that they have treated her just as if she was their own.
Being a single mom has definitely grown me up. My daughter and I have been through some stuff. I have had to go without sometimes to make sure she was okay. I changed homes so I could afford child care.
When Kennedi was first born, I was gone from 8:00 a.m. to 6:00 p.m. I had very little time with her. I changed jobs for a better schedule so I could spend more time with her. But then I had to work a second job on the weekends to make sure that bills were paid. Diapers are expensive, and so is child care, of course.
I work in corrections and I work at a bank. I've continued working at these jobs during COVID-19. You can appreciate how vital child care has been for me to continue serving in these essential roles. Thankfully, I haven't gotten sick with COVID-19. I haven't brought anything home, but I do get very nervous about it. Kennedi's child care center has had to close a couple of times due to COVID infections.
Unfortunately, because of the salary that I make, I was cut off from child care assistance back in 2016. Thankfully, my child care provider is able to work with me. She doesn't want to lose Kennedi. Having in-home child care has given Kennedi and this connection and sense of closeness where I've been able to build trust with my provider. She has worked with me over the past five years when I needed some flexibility on the cost. I am forever grateful. But what if I hadn't had that relationship? What if I had lost that quality of care for my daughter?
I wouldn't have child care if I had to pay full price. I've looked at some of the prices. I would not be able to afford it, especially the good quality child care that I want for my child. I hope that one day it's understood that just because somebody has a certain salary—especially when it comes to child care assistance—does not mean that they're able to afford the child care they need. Just when someone gets a little bit ahead in their salary, they can lose assistance, and then get behind again. I think we need policies that address this problem and can look at the whole financial picture. I also don't think child care providers should have to suffer financially when they do the right thing by helping out a parent who might be struggling.
For example, if you pay for good child care, it might mean that you can't have a place of your own. You might have to live with family or friends. And a lot of people may not have that option. Some people have to choose between having child care or paying for a place to live. The cost of child care is so high, many people have to make sacrifices in other parts of life—like healthy food, medicine or shelter—just to afford it.
If I could recommend one thing to improve early child care in my community it would be to make the cost make sense. I think sometimes we forget about the people who don't work at the best jobs, who are making the minimum wage. Those of us who do make a little bit more need help too. As single parents, we're responsible for providing transportation, housing, lights, food, etc. Our checks dwindle very quickly. A parent can work full time and still not be able to cover the basic expenses.
Child care is essential. More financial assistance needs to be available for people to get quality child care. Everybody's life situations are different. I think we should help those who are really trying and look at the whole picture, not just income, because that doesn't always tell the whole story.  We should look at the whole dynamic, look at the whole situation. Perhaps you're a single parent, like me, and your one income has to cover all the expenses.
I work with some awesome people, not only in Kenosha but across the state of Wisconsin. Many essential workers have had to work through the pandemic. These parents and kids deserve really good child care. All parents and kids deserve it. We need policies that make sure child care assistance is helping those who are trying to help themselves and their children.