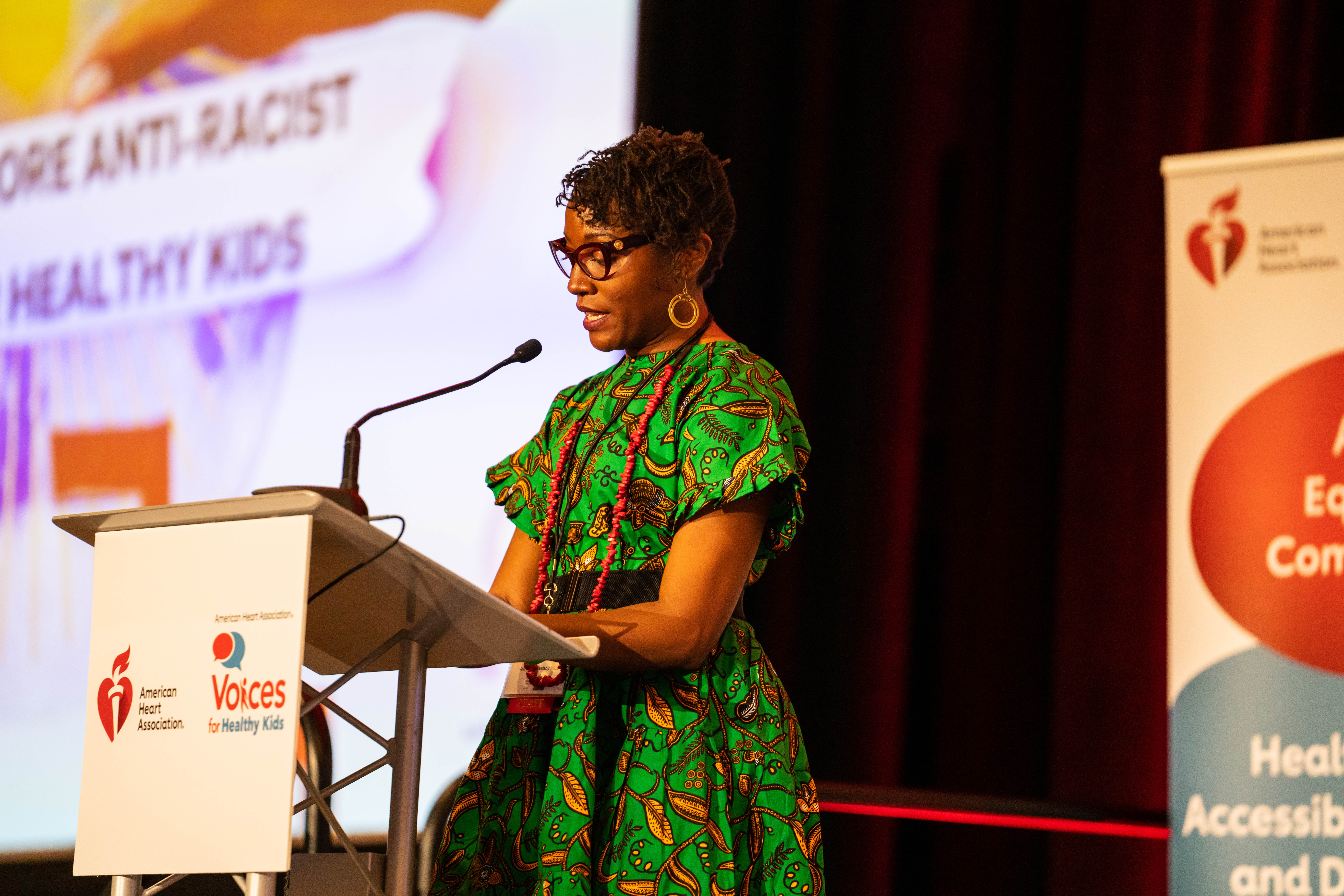 Years ago, when I was brand new to the Voices for Healthy Kids team, I was attending my very first Voices for Healthy Kids Summit. I was beyond excited but also nervous as it would be the first time I would meet my teammates in person. 
As part of each summit, the planning team creates an immersive experience rooted in the history of a different city each year. This particular year, we were in Louisville, Kentucky. There is a deep and rich civil rights history there, but even more importantly, a painful and sobering part of American history – the Transatlantic Slave Trade. The planning team had prepared for months, and many of us were looking forward to a walking tour of Louisville to see landmarks and some of the historical sites, where we could mark moments in history. A professor from a local university was our tour guide, and on this particular day, it was my role to introduce her so we could begin the "experience."
As she began her introduction of the walking tour, she made numerous inferences to slavery as if it had been some type of willful immigration to America. Her cavalier commentary on the history of slavery and the Civil Rights Movement became more painful each moment that passed.
I froze. It was appalling and dismissive, yet I said nothing. What just happened? What should I have done differently? Why didn't I speak up? How did I let this happen? My mind was racing, and my heart was heavy. I felt embarrassed, as if I had somehow failed my first assignment as the new health equity and partnerships manager. I replayed the words over and over in my mind trying to figure out when would have been the right time to just stand up and say ENOUGH! Instead, I felt this shame for letting down our grantees, especially those of the African Diaspora. 
Leaving that day, I reflected on how we could show up differently so that we would never experience a moment like that again. I also knew that the burden of the moment was not mine to bear. There was work to be done, to heal and learn from this experience. What seemed like one incident or blip in time proved to be a catalyst for authentic change and a call to action for every staff member. We moved forward but took many lessons from that day (and others) to forge a new vision for equity.
When I started at Voices for Healthy Kids five years ago, I was the only Black woman on staff and one of five staff members who were of African, Hispanic, or Asian descent. In the first five years of the initiative, my predecessors worked diligently to develop a framework and understanding of health equity. I felt honored to walk in their footsteps. Naively, I assumed my lived experience would be enough to allow me to lead the equity strategy work. I thought I knew exactly "what to do." I had no clue!
Since Voices for Healthy Kids' inception, our goal has been to think deeply and intentionally about how we center the voices within communities that have not historically been represented or even ignored. We have had to examine and take full inventory of the ways in which we interact and conduct business from day to day. We have had to challenge ourselves to think differently and do the internal work in acknowledging our blind spots, biases, and dominant cultural norms that have not been of service to the people and communities that we want to elevate and amplify. 
To effectively guide and support staff development, we implemented a comprehensive health equity and racial justice learning framework that is ongoing for all Voices for Healthy Kids staff.  It is not enough to simply check boxes to say we have completed cultural competency training.  We know we must dig so much deeper!
We look at all our policy solutions with historical context, and we are choosing to have all of the hard and uncomfortable conversations about unintended consequences and our individual journeys to understanding. What we have learned is that equity must be internalized before it can be operationalized and socialized within the initiative.   
Advancing Equity in Grantmaking
We've overhauled our grantmaking strategy and processes to be more open and accessible to diverse applicants and to be driven by the needs and priorities of our community partners. We lived through a global pandemic and saw the disproportionate impact it had on Black and Brown people. Amid responding to the needs of the pandemic, we watched the media cover the numerous murders and unjust investigations of Black men and women. But we knew that we could not afford to stand by and do nothing when people's lives were literally hanging in the balance.
With our COVID-19 Rapid Response Grants, organizations in 19 states, Puerto Rico, and the Lummi Nation in Washington state received over $1 million to help children and families in under-resourced communities gain better access to healthy food, health care, and income supports.
To make the grantmaking process more anti-racist, we created the Fair Start Index, a data tool that guides our grant dollars to communities of highest need and opportunity. We learned that holding ourselves accountable to our equity goals required us to be more intentional about where investments are needed. In addition, we identified geographic areas experiencing the greatest health disparities and focused grantmaking in these places.
Pursuing an Anti-Racist Policy Agenda
On the policy front, we continue to convene health equity roundtables with thought leaders, practitioners, and subject matter experts to better understand the existing policy priorities and explore emerging issues related to maternal and child health that could inform our policy agenda. We work together with community groups to advance policies that prioritize people experiencing the greatest health disparities—those who are Black, African American, Latino, Native American, Alaskan Native, Hawaiian, Pacific Islander and Asian American and families with low incomes. To support this work, we have an entire equity-focused Policy Research Advisory Group. These research experts collect and analyze data that help us get to the root causes of inequities while addressing shortcomings in our research design and methodologies and helping us become more antiracist in our policy agenda.
We also created two Racial Equity in Public Policy Guides to advance equitable policies as well as conversations about structural racism. We disseminated the guide widely and provided training to organizations, public health leaders, and funders nationwide on how to use it.
We continue to work to deepen our staff's personal and professional understanding of racial equity through ongoing training, strategy sessions, and leadership commitments. And we've revamped many of our internal policies and practices, including the recent formation of the Voices Equity and Culture Cohort which piloted in December 2022. The cohort was designed to create a more immersive experience into exploring how our very practices and protocols can be more deeply centered in equity, while also developing guidelines and standards for our own Culture and Practice Guide. The cohort will eventually rotate every staff member through it, giving everyone an opportunity to explore their own roles and responsibilities more deeply, with equity at the center. And our staff has become more diverse–in race and ethnicity, lived experience, and in thoughts. I am amazed every day at the growth of our team and their diligence to operationalize equity in all things!
Cultivating Equity in Our Hearts and Minds
We are learning to center and thread inclusive and equitable practices in the very fabric of our initiative. This includes our training, technical assistance practices, and grantmaking protocols in campaign planning, execution, implementation, and evaluation, as well as in our culture.
As important as all the work and achievements are, what's even more important is that we lean into an equity mindset. It means having difficult and uncomfortable conversations, listening with attention and intention, and using what we've learned to transform our culture and practices. It means huge investments of human energy and time, with the recognition that learning and growing with an equity mindset never ends, it only evolves.
The past five years have taught me to be patient in knowing that change takes time. We are certainly not the initiative we used to be, but we are now equipped and knowledgeable about how we can continue to challenge ourselves and commit to bigger and bolder equity goals. 
Most importantly, I am a Black woman and mother of two young black sons. This work is personal. I am invested in the work of Voices for Healthy Kids because my sons' livelihood depends on the policies that shape the community that I live in and other Black and Brown communities across this nation.